Welcome to Bridgerton Wiki!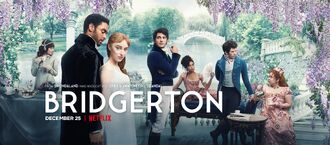 Bridgerton is a period drama set in the sexy, lavish and competitive world of Regency London high society. From the glittering ballrooms of Mayfair to the aristocratic palaces of Park Lane and beyond, the series unveils a seductive, sumptuous world replete with intricate rules and dramatic power struggles, where no one is truly ever on steady ground. At the heart of the show is the powerful Bridgerton family. Comprised of eight close-knit siblings, this funny, witty, daring, and clever group must navigate the upper ten thousand's marriage mart in search of romance, adventure and love.
Based on Julia Quinn's best-selling series of novels, this Netflix original is created and executive produced by Chris Van Dusen and executive produced by Shonda Rhimes and Betsy Beers. The series premiered December 25, 2020.
More Characters...
Bridgerton Wiki is a collaborative community where we aim to keep track of everything relating to Bridgerton: characters, episodes, events, locations, and more. We currently have a total of 200 pages.
We also have a place for getting to know each other and to talk about Bridgerton in our Discussions. Whether you are here to start editing or to chat with fellow users, you are welcome to sign up for an account!
Need help building out this community?
You can also be part of the larger Fandom family of communities. Visit Fandom's Community Central